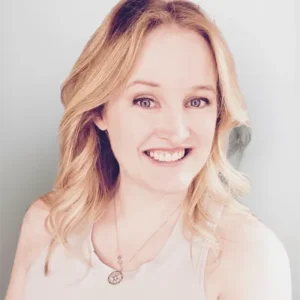 Angela Puleo is a Performance Improvement coach, consultant, educator and public speaker and the owner of Blairsville Dance Project. A dancer since age 2, Angela started trying to open her own dance studio at age 9. It is likely no surprise that parents were not lined up to sign up their children, so the studio she started in the spare bedroom, Rainbow Connection, was her second business fail. The first was the handwritten worksheets she tried to sell in her front yard at age 6.
Never one to give up, she opened Blairsville Dance in 2006. After getting her MBA, she then went on to found Compass Sterling, a coaching and consulting firm in 2016, but despite a degree and a flood of great ideas, she felt that she wasn't really living up to her potential and achieving her goals.
After noticing she often self-sabotaged by not following through with what she had promised herself, she took time off from creating new things and began studying mindset, self-image and success strategies. She pursued a neuroscience based coaching certification, which combined with her multiple failures and a cancer diagnosis gave rise to a new skill…finding new ways to look at troublesome things. As it turns out, other people will pay you for that, so she has worked with educational institutions, hospital systems, national non-profits, tech companies and small businesses to help them find new opportunities to make big changes.
As she discovered during her 17 years of working as a dance teacher, however, her passion is helping youth develop a self-image that serves them well in dance AND in life. She then transformed Compass Sterling to focus on teaching this skill to other dancers and dance educators with the goal of helping dancers nationwide find their personal power to create their ideal lives, both in and out of the dance studio. Outside of coaching and teaching, she is working with her mother Deborah Adams, a published author, on a series of growth mindset books for young dancers, featuring the loveable, yet oftentimes clumsy, York the Yeti.
In addition to serving as Director of Blairsville Dance, Angela will be teaching Senior Contemporary, Senior Lyrical, Senior Clogging and co-teaching Senior Hip Hop for the 2023-24 dance season.